John "Johnny" Nixon

The Rebel

Gender

Male

Race

Human

Character Class

Warrior

Affiliations

Himself

Former Affiliations

Relatives

Occupation

Outlaw

Status

Missing
John "Johnny" Nixon is the former leader of a small rebel gang in Westfall. After he and his group were incarcerated by the Sentinel Hill militia, one of the other members posed a large enough distraction to grant Johnny the time to escape. Knowing he would find only imprisonment - or worse - within Elwynn Forest, Johnny dangerously ventured out into hiding within the gloomy forests of Duskwood. While his capture is a goal of the Sentinel Hill guard, their strained resources have yet to find a lead on him thus far.
Personality
Edit
Oftentimes, Johnny will steal from a rich family in order to feed either his own family, or even a neighboring one if they are fighting for survival.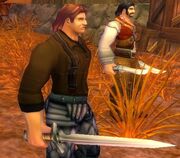 Ad blocker interference detected!
Wikia is a free-to-use site that makes money from advertising. We have a modified experience for viewers using ad blockers

Wikia is not accessible if you've made further modifications. Remove the custom ad blocker rule(s) and the page will load as expected.