Worgen of Gilneas

Icon of the Cursed

Leader

Capital

"Worgen Island"

Allies

Liberation Front

Enemies

Forsaken

Main Language

Common

Race

Worgen

Affiliation

Neutral
The "Worgen Island"
Edit
Once the Hayward Fishery, now "Worgen Island" was abandoned by its original brotherly inhabitants shortly following the Cataclysm. Postwar the strip of land has found itself isolated in shallow waters, albeit deep enough to have it considered an island. Recently, the Worgen of Gilneas have taken up residence in the place.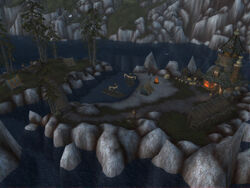 Ad blocker interference detected!
Wikia is a free-to-use site that makes money from advertising. We have a modified experience for viewers using ad blockers

Wikia is not accessible if you've made further modifications. Remove the custom ad blocker rule(s) and the page will load as expected.